A high-powered Manhattan attorney finds love, purpose, and the promise of a simpler life in her grandmother's hometown.
Ellen Branford is going to fulfill her grandmother's dying wish--to find the hometown boy she once loved, and give him her last letter. Ellen leaves Manhattan and her Kennedy-esque fiance for Beacon, Maine. What should be a one-day trip is quickly complicated when she almost drowns in the chilly bay and is saved by a local carpenter. The rescue turns Ellen into something of a local celebrity, which may or may not help her unravel the past her grandmother labored to keep hidden. As she learns about her grandmother and herself, it becomes clear that a 24-hour visit to Beacon may never be enough. THE IRRESISTIBLE BLUEBERRY BAKESHOP & CAFE is a warm and delicious debut about the power of a simpler life
Review
This was a great example of why sometimes I need to put a book down and then get back to it in a few days. It almost was a DNF.
It is also a great example of "Don't believe the hype'
It started off slow, and I found that I did not like Ellen very much. I am happy I kept reading after the first 20% of the book it started to turn into an OK debut novel and Ellen was not as self-centered as I felt she was in the beginning. I would consider this women's lit or romance and not a foodie book at all. It has no recipes and very little mention of food.
I may read a few more of Mary Simses books in the future. to see how she is coming along as a writer.
Side note
I don't know why James Patterson said:
"If you liked The Guernsey Literary and Potato Peel Pie Society, or the Nicholas Sparks novels, you will devour THE IRRESISTIBLE BLUEBERRY BAKESHOP & CAFE. Mary Simses can write evocative detail that puts you right in the scene, with dialogue that always rings true." (James Patterson)
I did not devour this book it also did not remind me at all of The Guernsey Literary and Potato Peel Pie Society.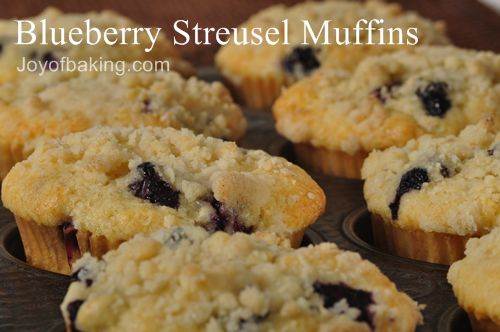 Joy of BakingBlueberry Streusel Muffins
Recipe
2 large eggs
1 cup (240 ml) milk (full or reduced fat)
1 teaspoon pure vanilla extract
3 cups (390 grams) all purpose flour
1 cup (200 grams) granulated white sugar
2 1/2 teaspoons (10 grams) baking powder
1/2 teaspoon salt
1/8 teaspoon ground cinnamon (optional)
1/2 cup (113 grams) cold unsalted butter, cut into small chunks
2 cups (one dry pint) (275 grams) fresh or frozen blueberries (if using frozen blueberries, do not thaw)
1 teaspoon freshly grated lemon zest (outer yellow skin)
2 tablespoons (28 grams) unsalted butter
Preheat oven to 350 degrees F (180 degrees C).
Place rack in center of oven.
Line 14 - 16 muffin cups with paper liners or lightly butter the muffin cups or spray them with a non stick vegetable spray
In a bowl whisk the eggs with the milk and vanilla extract.
In a large mixing bowl, whisk the flour with the sugar, baking powder, salt, and ground cinnamon. Cut the butter into the flour mixture with a pastry blender, your fingertips, or two knives. (The mixture should look like coarse crumbs.)
Remove one cup (150 grams) of the mixture and set aside in a separate bowl to make the streusel topping.
To the remaining muffin batter, gently fold in the blueberries and lemon zest.
Add the milk and egg mixture to the flour mixture. Stir just until combined. (Do not over mix this mixture or the muffins will be tough when baked.) Fill each muffin cup about 3/4 full with the batter, using two spoons or an ice cream scoop.
Streusel Topping: Melt the remaining 2 tablespoons (28 grams) butter and stir into the reserved one cup (150 grams) of flour mixture until it is crumbly and looks like coarse meal. Sprinkle about 1 tablespoon of the streusel on top of each muffin. Bake the muffins for about 18 - 23 minutes or until firm and a toothpick inserted into the center of a muffin comes out clean. Remove from oven and place on a wire rack to cool before serving. These muffins are at their best the day they're made, but they can be covered and stored at room temperature for about 2 days. They can also be frozen.joyofbaking.comRead more: http://www.joyofbaking.com/muffins/BlueberryStreuselMuffins.htmlMakes about 14 - 16 muffins.http://dianne1964.blogspot.com/2013/08/the-irresistible-blueberry-bakeshop.html